Gluten-Free/Dairy-Free/Low-Carb/Keto
When I first saw Chicken Croquettes, I thought What in the world is that?? My interpretation of Chicken Croquettes is the combination of Crab Cakes and Chicken Patties. I'm slightly sensitive to gluten, so I wanted to make a gluten-free version of them not only for myself, but for anyone else looking for this option. I've used Pork Panko to make Meatloaf and it turned out fantastic, so I decided to use them in this recipe to see how they would turn out.
While creating this recipe, I had three other recipes pulled up for a combination of Chicken Croquettes and Crab Cakes, altering tips and tricks into making them exactly how I wanted them to turn out (along with other variations pulled from my own noggin).
These taste just like regular ole Chicken Croquettes, and I was extremely happy about that. These cute little flavorful hockey pucks are crispy and super easy to make. I ended up omitting the salt from the original recipe I put together because it definitely has enough salt with the other ingredients. Feel free to substitute the pork panko for regular seasoned breadcrumbs!
Recommended Books
Chicken Croquettes
2 (12.5 oz) cans premium white chicken meat
1 egg
1 teaspoon dijon mustard
1/4 cup mayonnaise
1/4 teaspoon garlic powder
1/4 teaspoon onion powder
1/4 teaspoon black pepper
2/3 cup pork panko
Drain chicken very well in a colander, pushing down meat to squeeze out water. Preheat oven to 450 degrees. Combine all ingredients in a medium size mixing bowl and beat with electric mixer for about 1 minute, until everything is well-blended. Form into 6 hockey puck shaped patties and place on a pan in refrigerator for about 20 minutes. Remove from fridge, roll in more pork panko and bake for 15-18 minutes, or until lightly browned and crispy. Top with sauce (optional), serve on a bed of greens or with coleslaw.
For the Sauce
1/2 cup mayonnaise
1 tablespoon lemon juice
1/2 teaspoon creole seasoning
Combine all ingredients in a bowl and whisk together until smooth. Drizzle over croquettes or serve on the side for dipping.
Freezer Instructions: After patties have cooled in refrigerator, individually wrap with plastic wrap and store in freezer for up to 3 months. Thaw completely in fridge before baking.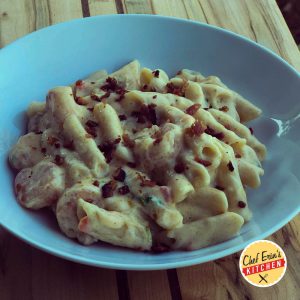 Southern Shrimp and Pasta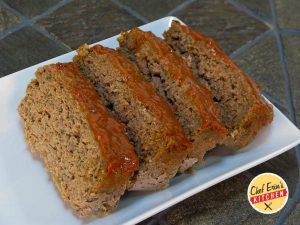 Easy Meatloaf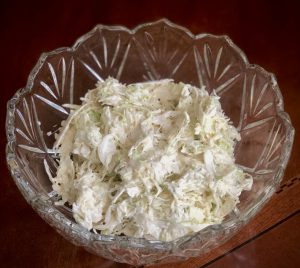 Super Simple Slaw