Gluten-Free/Dairy-Free/Keto/Paleo
Even though Pumpkin Season has officially arrived, that hasn't stopped me from eating these muffins ALL YEAR LONG. Our family eats muffins on the weekends for breakfast since I keep different flavors stocked in the freezer, and this is one of the healthy ones that I keep in stock for myself.
These muffins are Gluten-Free, Sugar-Free, and Dairy-Free, Paleo AND Keto-friendly, making it easier on my sensitive tummy without missing out on one of my favorite things to gobble down on the weekends with a hot cup of coffee. If you'd prefer to make these the traditional way, just switch out the flours and use All-Purpose Flour, vegetable oil, and use regular granulated (or light brown) sugar.
Recommended Books
Chocolate Chip Pumpkin Spice Muffins
For the Muffins (makes 10 jumbo muffins)
2 cups almond flour
1/4 cup coconut flour
1 1/2 cups monkfruit granulated sweetener (I use Lakanto brand)
1 teaspoon cinnamon
1 teaspoon pumpkin spice
1 tablespoon baking powder
1 teaspoon baking soda
1 teaspoon sea salt
1 cup liquid coconut oil
15 oz. can pumpkin
1 teaspoon vanilla extract
4 eggs
*1 cup dark chocolate chips: Lily's (Keto) or Hu (Paleo)
Preheat oven to 350 degrees. Combine all ingredients in a medium size mixing bowl or standing mixer and beat at medium speed for about 1-2 minutes, until well combined. Line 2 jumbo muffin pans with liners, distribute batter evenly into cavities. Place pans in oven and bake for 12 minutes. Reduce oven temperature to 350 degrees, continue baking for another 20 minutes, or until toothpick inserted in muffins comes out clean. Remove pans from oven and let cool for about 5 minutes before removing muffins from pans and cooling completely on cooling racks. Make icing and drizzle on top of muffins.
For the Chocolate Glaze
1 tablespoon unsweetened dark cocoa
2 tablespoons monkfruit confectioners sweetener
1 tablespoon almond milk
Combine all ingredients in a bowl and stir together until smooth, drizzle over muffins.
Freezer Instructions: When muffins have cooled completely and icing is set, individually wrap with plastic wrap and store in freezer. You can pull them out the night before you want to eat them to thaw at room temperature, or you can defrost them in the microwave as needed. Don't forget to remove the plastic wrap before popping in the microwave though. 🙂
*Buying these chocolate chips online is more expensive, I can find Lily's and Enjoy Life chocolate chips in my local grocery stores at a lower price.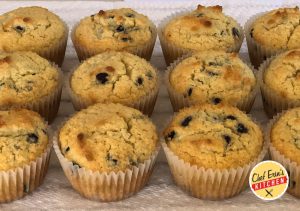 Dairy-Free Keto Muffins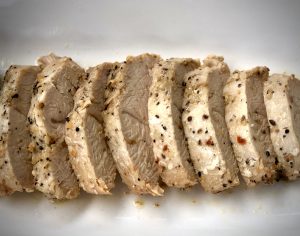 Slow Cooker Turkey Tenderloin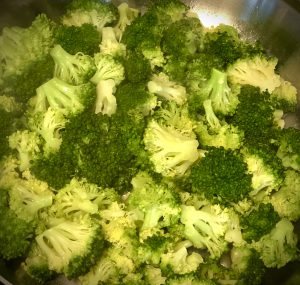 Our Favorite Broccoli