It amazes me how recipes can come together. One of the guys from Krafty Draft Brew Pub sent me a picture of a dessert that he knew his girlfriend would absolutely love, and asked if there was any way I could recreate it for her. It was a chocolate covered strawberry inside a New York style cheesecake, and I stared at it in awe. That looks amazing I thought to myself. It should be illegal if I didn't recreate this if only for my own sanity.
Fortunately, I'm stubborn…which means I wanted to come up with my own version of this. How about a CHOCOLATE cheesecake surrounding an entire strawberry with a chocolate Oreo crust, topped with chocolate ganache and whipped cream on top?!?! Although my poor husband never actually asks for all of the brainstorming that comes flying out of my mouth, he sure does get an earful when I'm thinking out loud. I typically end one of my rants with, "You know, because you asked," and he responds with, "But actually, I didn't." That's true love.
Chocolate Covered Strawberry Cheesecake
For the Crust
1 1/4 cups Oreo cookie crumbs*
2 tablespoons butter, melted
For the Filling
1/4 cup cornstarch
1/4 cup unsweetened dark cocoa
1 2/3 cups granulated sugar
4 (8 oz.) blocks cream cheese, softened
2 eggs
1 tablespoon vanilla extract
3/4 cup heavy cream
1 pint fresh strawberries, stems removed
For the Ganache
1 cup semisweet chocolate chips
1/2 cup heavy cream
For the Whipped Cream
1/2 cup heavy cream
2 teaspoons granulated sugar
Preheat oven to 350 degrees. In a small mixing bowl, Oreo crumbs and melted butter. Toss together until well-combined, evenly distribute between 12 lined jumbo size muffin cavities, press evenly into bottom. In a standing mixer (or in a mixing bowl using an electric mixer), add 8 oz. cream cheese, cornstarch, and 2/3 cups sugar. Beat at medium speed with the paddle attachment until mixture is smooth. Add cocoa and another 8 oz. cream cheese, along with 1/3 cup sugar and continue to beat until smooth. Add remaining cream cheese and granulated sugar, one at a time, until smooth. Slow mixer to stirring speed, add vanilla, and one egg at a time, scraping down the sides. Turn on to stirring speed and slowly add heavy cream just until mixed in (do not overmix).
Scoop a small amount of cheesecake batter into each cavity to create a base for the strawberries. Place one strawberry into each cavity, flat side down. Scoop remaining batter into each cavity, covering strawberries completely. Place pans in oven and bake for 22-25 minutes, just until cheesecakes start to puff up and have small cracks. Remove pans from oven and let cheesecakes cool in pans for 1 hour at room temperature, then move pans to refrigerator to cool completely and set for 3-4 hours before removing cheesecakes from pans.
After removing cheesecakes from pans, heat 1/2 cup heavy cream in a microwave safe dish for 45-60 seconds until bubbling. Pour over chocolate chips in a small mixing bowl, whisk together vigorously until chocolate is melted and smooth. Spoon chocolate ganache on top of each cheesecake in a smooth layer. In a small mixing bowl, beat heavy cream and 2 teaspoons sugar at high speed until stiff peaks form. Using a cake decorating tip and pastry bag, pipe on top of chocolate ganache layer. Store cheesecakes in refrigerator for up to 5 days, or in freezer for up to 3 months.
*When making Oreo cookie crumbs, grind up the whole cookies, including the cream in the center. My favorite way to grind them is in a food processor in larger batches to keep them on hand in an airtight container.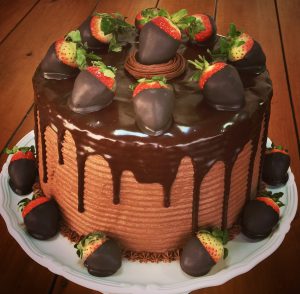 Chocolate Covered Strawberry Layer Cake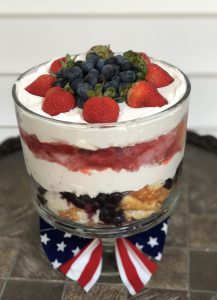 Super Easy Fourth of July Trifle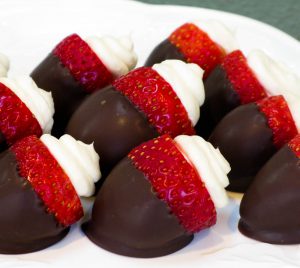 Chocolate Covered Cheesecake Stuffed Strawberries