Every year for my birthday, I'm asked what kind of dessert I want someone to make for me. Typically, the answer is that I want to make it myself. "What? You can't make your own birthday cake!" The thing is, I'm always so busy making desserts for other people that this gives me an opportunity to make something that I've been wanting to try, and having other people around to help me dispose of it is the perfect time. Plus, whatever gives me ANY excuse to have a social gathering is worth making a cake.
I was so in love with the icing recipe from Oreo Cheesecake Cookie Tarts that I decided to use it to create the ultimate Cookies 'n Cream Cake. Success. This vanilla cake is packed full with chunks of Oreo cookies, then layered with chocolate ganache, Oreo Icing, topped with more chocolate ganache and icing, and MORE OREOS.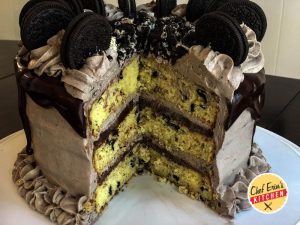 Cookies 'n Cream Cake
For the Cake
1 box Duncan Hines white cake mix
1 small box instant vanilla pudding mix
3/4 cup vegetable oil
1/2 cup milk
4 eggs
8 oz. sour cream
1 1/2 cups Oreo cookie chunks
Preheat oven to 350 degrees. In a medium size mixing bowl or standing mixer, combine first six ingredients and beat at medium speed with electric mixer for 1-2 minutes. Stir in cookie chunks. Grease and flour three 8 inch round cake pans, pour batter evenly into pans and bake for about 28 minutes, until lightly browned on top and a toothpick inserted comes out clean. Let cakes sit in pans for 12-15 minutes before turning out on cooling racks to cool completely.
When cakes have cooled, place 1 layer on a cake board or cake carrier. Spread 1/3 of Chocolate Ganache (recipe below) on top, followed by some of the Oreo Cream Cheese Icing (recipe below). Repeat layering again, then place third cake layer on top. Cover cake completely with remaining icing. When adding chocolate ganache to the top of the cake, heat it slightly in the microwave so that it will drip easily down the sides. Finish decorating cake as desired with any remaining icing and lots more Oreo cookies.
For the Oreo Cream Cheese Icing
2 (8 oz.) packages cream cheese, softened
2 cups Oreo cookie crumbs
16 oz. frozen whipped topping, thawed
In a mixing bowl or standing mixer, combine cream cheese and cookie crumbs, beat with electric mixer for about 1 minute. Add whipped topping and continue to beat for another minute.
For the Chocolate Ganache
1 1/2 cups semisweet chocolate chips
3/4 cup heavy cream
Heat heavy cream in a microwave safe dish for 1 1/2-2 minutes, or until it starts to bubble. Pour hot cream over chocolate chips in a small mixing bowl, let sit for about 1 minute. Whisk vigorously until chocolate is completely melted and smooth.
Like this? Try these!