Gluten-Free/Dairy-Free/Low-Carb/Keto
One of my favorite things to have for breakfast is a muffin, so having a gluten-free, sugar-free, AND dairy-free muffin seemed impossible…until I started making these little guys. Chocolate Chip is my favorite, but I also make these using wild blueberries that my son devours, too. For my hubby and daughter, they're fans of the double chocolate version as well, so it's a versatile recipe that can be modified and substituted in a few different ways.
This particular muffin goes in my belly at least 3-4 times per week along with scrambled eggs in avocado oil, and the combination of these two breakfast items gives me energy to keep on truckin' for another 5 hours before my stomach starts yelling at me to eat lunch. Anyone who knows me is shocked that I can make it that long during the day without eating again.
These muffins freeze incredibly well, so typically I'll make a large batch, wrap them in plastic wrap, and stuff them in the freezer to last a few weeks. Just pull one out of the freezer the night before, or a couple hours before in the morning for an easy breakfast or snack. I usually pop mine in the microwave for 12-15 seconds to warm them up just a little bit to go along with a delicious hot cup of coffee.
Recommended Books
Dairy-Free Keto Chocolate Chip Muffins
2 1/2 cups almond flour
1/2 cup granular erythritol/monkfruit sweetener (my favorite is Lakanto)
1 1/2 teaspoons baking powder
1/2 teaspoon kosher salt
1/3 cup liquid avocado oil
1/3 cup almond milk
3 eggs
1 teaspoon vanilla extract
3/4 cup Lily's chocolate chips
Preheat oven to 350 degrees. In a medium size mixing bowl or standing mixer, combine dry ingredients and whisk together. Add liquid ingredients and beat at medium speed for about 1 minute, until well-combined. Stir in chocolate chips. Line a muffin pan with liners, distribute batter equally in muffin cavities and bake for about 24 minutes, until lightly browned on top and toothpick inserted in center comes out clean.
FREEZER MEAL PREP: When muffins have cooled, wrap individually in plastic wrap and store in freezer.
VARIATIONS:
DOUBLE CHOCOLATE: substitute 1/4 cup almond flour for unsweetened dark cocoa.
BLUEBERRY: substitute chocolate chips with frozen wild blueberries that have been thawed.
LEMON BLUEBERRY (my fav!): substitute chocolate chips with frozen wild blueberries that have been thawed, add 20 drop lemon essential oil (I use Young Living). Drizzle with lemon glaze (1/2 cup monkfruit confectioners sweetener, 3 drops lemon oil, 2 tablespoons almond milk).
CINNAMON: omit chocolate chips, add 1 teaspoon cinnamon to batter, and top with vanilla glaze (1/2 cup monkfruit confectioners sweetener, 2 tablespoons almond milk, 1/2 teaspoon vanilla extract).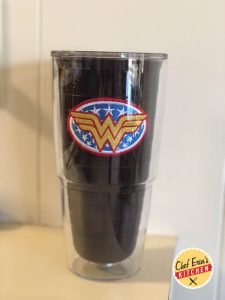 Superfood Protein Smoothie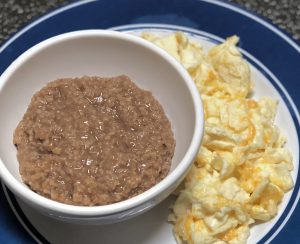 Quinoa Oatmeal