Gluten-Free/Dairy-Free/Vegan
Recently, I was asked to make some Gluten-Free Vegan Cupcakes for a child's birthday party after one of my unsuspecting victims tried my Carrot Cupcakes. These days I tend to shy away from making traditional desserts if I can, but was happy to oblige in contributing a healthier option. While talking to the mom about cupcakes, she asked if I could also make "something chocolate." I believe that is a possibility.
With my previous baking experience in the back of my mind, I started researching recipes. When I came across a highly rated recipe, I started making my own modifications and changes. Ohh, this looks good. Let's see how it turns out.
When I put the batter together, it looked incredible. As the cupcakes started baking, they started to puff up beautifully and looked dark. As I pulled them out of the oven, they looked ridiculously dark. My husband walked in the kitchen as I was transferring them to a cooling rack and said, "Wow, those are really dark. They look almost black. They look awesome."
Although I was worried about the texture, consistency and flavor, I prepared to have to make the recipe again and was thankful I did a trial run.
I sank my teeth in for a bite, and my eyes closed.
Holy mother of pearl.
As I chewed slowly, the delicate, moist cupcake topped with the creamy chocolate icing and chocolate ganache hit every single pleasure sensor in my brain. Each bite was so good that I felt like a needed a cigarette when I was done. I don't smoke.
These were literally the best chocolate cupcakes I have ever had in my life, and I cannot wait to turn them into a three-layer cake…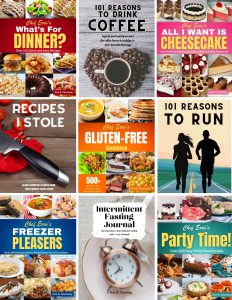 Death by Chocolate Cupcakes (makes 2 dozen cupcakes)
For the Cupcakes
2 cups gluten-free all purpose flour
1 1/2 cups granulated sugar
1/3 cup unsweetened cocoa
1/3 cup unsweetened dark cocoa
1/2 tablespoon baking powder
1 teaspoon baking soda
1/2 teaspoon salt
1 1/2 cups non-dairy milk
1/2 cup coffee
2 teaspoons vinegar
2/3 cup vegetable oil
1 tablespoon vanilla extract
Preheat oven to 350 degrees. Combine flour, cocoa, sugar, baking powder, baking soda, and salt in a medium size mixing bowl or standing mixer. Gently stir together. Add remaining liquid ingredients, beat at medium speed for about 1 minute, until well-combined. Line two muffin pans with cupcake liners and give each one a quick spray. Spoon batter into liners, filling about 2/3 full. Bake for 24-25 minutes, until a toothpick inserted comes out clean. Let sit in pan for a couple of minutes before removing to cooling rack to cool completely.
For the Chocolate Buttercream Icing
1 cup plant butter, softened
2 cups confectioners sugar
1 cup unsweetened cocoa
1 tablespoon vanilla extract
2 tablespoons water (optional)
In a medium size mixing bowl or standing mixer, beat butter at medium speed for about 2-3 minutes. Add confectioners sugar, cocoa, and vanilla, continue beating for another 2 minutes. Add water as needed for a creamier consistency, if desired. Spoon icing into pastry bag with cake decorating tip (my favorite is 1M) and pipe on top of cupcakes.
For the Chocolate Ganache
1 cup chocolate chips
1 tablespoon coconut oil
Combine chocolate chips and coconut oil in microwave safe dish. Heat in 30 second intervals in microwave, stirring between each interval, until chocolate is melted and smooth. Drizzle on top of cupcakes.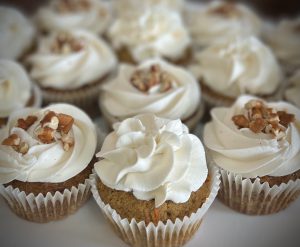 Carrot Cupcakes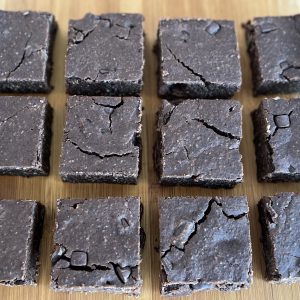 Fudgy Black Bean Brownies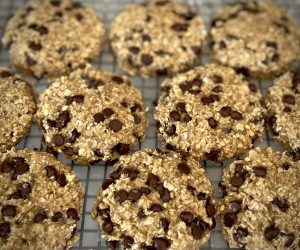 Banana Oatmeal Cookies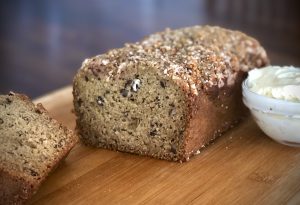 Banana Nut Bread