When it comes to meatloaf, I've heard several reactions…mostly the famous, "Ewwww, meatloaf!!"  And really what makes me quote is little Randy not wanting to eat his meatloaf and mashed potatoes in the movie "A Christmas Story."  Well, not in our house growing up.  In fact, it was quite the opposite.  Even when our family gets together now, we get excited when my mom makes meatloaf, because it's actually pretty dang yummy.  If there are any leftovers, it's not much.  Several years ago when my husband had it for the first time, he was not looking forward to it…but polished off his entire serving of it and even went so far as to say, "That was good."  Indeed it was.
Since then, I've been working on my own concoction of meatloaf, without using the onion soup mix that my mom used for her recipe while we were growing up.  I've played with the recipe several times, and have reached a good point of satisfaction…my husband and kids love it!  Success!
For the Meatloaf:
2 pounds ground beef (80-85%)
1 egg
1 teaspoon garlic powder
1 tablespoon onion powder
1 tablespoon Worcestershire
1 cup milk** (see below for low-carb option)
1 cup seasoned Panko breadcrumbs** (see below for low-carb option)
1/3 cup ketchup
For the Topping:
1/3 cup ketchup
2 tablespoons brown sugar (optional)
1 tablespoon Dijon mustard
Preheat oven to 350 degrees.  Combine all ingredients in a bowl and mix well with hands.  Place into meatloaf pan, or in a greased 9×13 inch baking dish, form mixture into a loaf.  Prepare topping, brush over top of meatloaf.  Bake for 1 hour to 1 hour 20 minutes, until juices run clear or internal temperature reads 155 degrees F.  Let sit for about 10 minutes before serving.
**MAKE THIS LOW-CARB, DAIRY-FREE AND GLUTEN-FREE!! Use pork panko instead of traditional breadcrumbs, and 1 cup beef bone broth instead of 1 cup milk!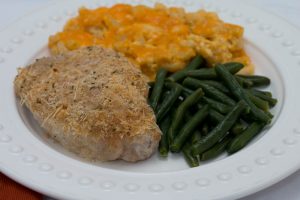 Parmesan Crusted Pork Chops