I had another one of those brainstorming moments while cruising through the baking aisle at Wal-Mart. They have a large variety of different types of chocolate chips, so while looking through the different options, the Espresso chocolate chips jumped out at me. As I stood there thinking about the combination of chocolate and coffee, I may or may not have started to salivate at the thought of throwing them into a batch of chewy fudge brownies made with coffee and coffee extract, topping them with a coffee liquor-infused chocolate ganache. "YES!!" I cried and grabbed several bags, throwing them into my cart along with boxes of brownie mix. 
Luckily, Wal-Mart is typically filled with all sorts of people, so I rarely embarrass myself (or even care) while shopping. I was actually looking for ingredients to make Turtle Brownies, but when they didn't have exactly what I needed, improvising for another flavor was appropriate.
It didn't stop here, though.
Coffee flavor is wonderful when paired with chocolate, since it really helps bring out the flavors and richness. I wanted the coffee flavor to be obvious, but not overpowering. The combination of strong coffee, coffee extract, espresso chocolate chips, and coffee liquor infused chocolate ganache was the best of all worlds when it comes to coffee and chocolate. I even took that extra step of topping it with coffee flavored ice cream and fell into a coffee coma with each bite.
I totally took a shortcut with these brownies by using brownie mix, but I'd fall over if anyone could even tell. This is one of the most fun aspects of doctoring up box mix recipes, and I do it a lot with cake mixes as well.
Espresso Brownies
2 boxes Duncan Hines chewy fudge brownie mix
1 cup vegetable oil
1/2 cup strong brewed coffee, cooled
4 eggs
1 tablespoon coffee extract
1 bag espresso chocolate chips
Preheat oven to 350 degrees, line a 9×13 inch pan with parchment paper and cooking spray. Dump the dry ingredients from the boxes of brownie mix into a large mixing bowl. In a small mixing bowl, combine oil, cooled coffee, coffee extract, and eggs. Whisk together well. Pour into large mixing bowl with brownie mix and stir together using a spatula until well-combined and there is no more powder from the brownie mix. Stir in espresso chocolate chips, spoon into pan into an even layer. Bake for about 40 minutes, until a very small amount of brownie batter hugs the tip of a toothpick inserted in the center. Remove pan from oven and let cool on cooling rack. When brownies have cooled, make ganache.
For the Ganache
1 cup semisweet chocolate chips
1/2 cup heavy cream
1 tablespoon coffee liquor
Heat heavy cream in a microwave safe dish for about 45 seconds in microwave, or until cream starts to bubble. Pour over chocolate chips in a small mixing bowl, whisk together vigorously until chocolate is melted and smooth. Add coffee liquor and whisk again. Spread into an even layer on top of cooled brownies. Place pan in refrigerator for 30 minutes for ganache is set before removing brownie by pulling up the sides of the parchment paper and cutting into squares.
*To Make A Sundae*
Top with coffee flavored ice cream and drizzle with chocolate syrup!
Freezer Instructions: Wrap individually in plastic wrap and place in a ziplock bag, store in freezer for up to 3 months. Pull out of freezer to thaw at room temperature to enjoy!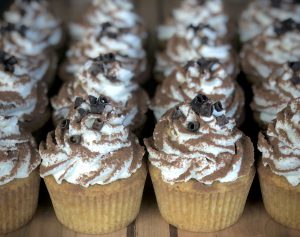 Tiramisu Cupcakes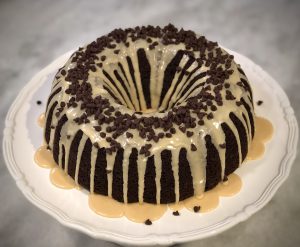 Chocolate Irish Cream Bundt Cake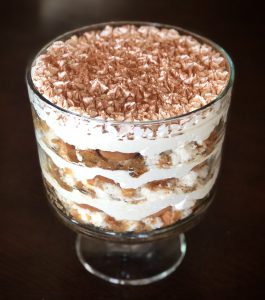 Tiramisu Trifle