My hubby isn't really a big foodie at all, so when he brings up a certain dish he loves it's a bit of an ordeal. When going out to eat with another couple, we started talking about the freezer meals I made several years ago when starting my business. Hubby piped in and brought up the Lobster Mac 'n Cheese that I make, and I looked at him with shock as he talked about how incredible it was and how much he liked it. Wait, what's happening here? Is that the alcohol talking? Then again, he doesn't bring something up if he doesn't mean it. And let's be real here, is it even possible to avoid being honest after having a couple of drinks? Highly unlikely.
The following week, I headed to the store and got all the ingredients to put together this fabulous dish.
Creamy four-cheese mac 'n cheese made with swiss, white cheddar, sharp cheddar, and parmesan cheeses, packed with lobster tail meat and cellentani pasta, topped with more sharp cheddar and buttered breadcrumbs.
Since this makes a very large batch, you have a few options here. Invite a lot of people who love to eat some good-quality macaroni and cheese that is packed with seafood, or divide this up into containers and make some freezer meals. Or, you could make enough for a 9×13 inch baking dish to have for dinner within the next 7 days, and pack the rest away in containers and pop in the freezer. I love having options.
When I made this for our family, hubby requested to have some sort of meat to go along with it. So, I decided to make some sauteed shrimp and Our Favorite Broccoli to accompany. I made a big plate for a picture, said, "There's NO way I'll be able to eat all of this," then proceeded to eat every single bite.
Gourmet Lobster Mac 'n Cheese 
1 cup unsalted butter
1 cup all purpose flour
7 cups whole milk
2 cups heavy cream
1 tablespoon dijon mustard
2 teaspoons salt
1/2 teaspoon black pepper
1 lb. white cheddar cheese, grated
8 oz. gruyere cheese, grated
8 oz. parmesan cheese, grated
2 lbs. sharp cheddar cheese, grated (plus extra for topping, if desired)
2 lbs. cavatappi pasta
2 lbs. cooked lobster*
In a stock pot, melt butter on medium heat. Whisk in flour and cook for about 1 minute, then add dijon mustard and whisk again. Slowly pour in milk and half and half, whisking well. While the bechamel sauce is cooking, bring salted water to a boil in another pot. Cook pasta according to package directions, only to al dente (if the pasta is cooked too much, it can get mushy in the sauce after it sits), drain. Preheat oven to 350 degrees. After sauce has been cooking for about 10-15 minutes and has thickened, turn heat to low and slowly stir in grated cheeses. Stir until melted, remove pot from heat, and stir in lobster and shrimp. Spoon into a dutch oven and spread into an even layer, sprinkling with extra cheddar (if desired). Bake for 35-45 minutes, until hot and bubbly. Remove from oven, let sit for 5-10 minutes before serving.
Freezer Meal Instructions: Distribute macaroni into foil containers or glass containers and cool completely before covering, labeling, and store in freezer for up to 3 months until ready to eat. Let thaw in refrigerator before baking.
*I typically buy the meat that has been cooked and frozen for convenience, just make sure you let them thaw out completely in the refrigerator before adding to the recipe.
** Divide this recipe in half if you'd like a smaller amount, but keep in mind that this makes fantastic freezer meals and can be divided up into several containers!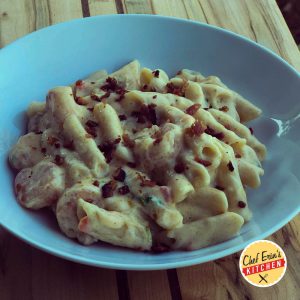 Southern Shrimp and Pasta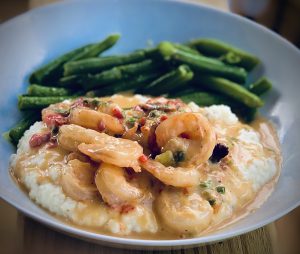 Shrimp and Grits