One of my all-time favorite hot sandwiches is a Ham 'n Swiss. I'm not really sure what it is about that combination, or if it's the fact that melted Swiss alone is good enough to make your knees buckle. Maybe this combination is why I love every variation of Chicken Cordon Bleu, whether it's traditional or a cassserole. 
Now that I'm thinking about a hot ham 'n swiss, let's throw in some turkey, bacon, lettuce, and mayo on that sucker. I need to stop…
Since mac 'n cheese is a comfort food that I could personally eat my weight in, it's also really fun to play around with different types of cheese, pasta, and meats to throw in there. It's slightly ridiculous how good this turned out the first time I made it, so it became a regular favorite for several families that I make prepared meals. Using different types of cheeses contributes greatly to the blend of flavors, and I almost forgot how good this stuff was until I took it to my bestie's house for us to have for dinner. All four kids between the two of us approved, and I may or may not have gone back for heaping second helpings. Fortunately, there's no proof of this happening, so we'll leave it at that.
Ham and Swiss Mac 'n Cheese
1 cup unsalted butter
1 cup all purpose flour
1 tablespoon dijon mustard
11 cups whole milk
1 tablespoon kosher salt
2 lbs. cubed ham
24 oz. grated swiss cheese
24 oz. grated white cheddar cheese
2 lbs. elbow pasta
2 lbs. grated mozzarella cheese
In a stock pot, melt butter on medium heat. Whisk in flour and cook for about 1 minute, then add dijon mustard and whisk again. Slowly pour in milk, whisking well. While the bechamel sauce is cooking, bring salted water to a boil in another pot. Cook pasta according to package directions, only to al dente (if the pasta is cooked too much, it can get mushy in the sauce after it sits), drain. Preheat oven to 350 degrees. After sauce has been cooking for about 10-15 minutes and has thickened, turn heat to low and slowly stir in grated cheeses. Stir until melted, remove pot from heat, stir in ham and pasta. Spoon into a dutch oven and spread into an even layer, sprinkling with grated mozzarella. Bake for 35-45 minutes, until hot and bubbly. Remove from oven, let sit for 5-10 minutes before serving.
Freezer Meal Instructions: Distribute macaroni into foil containers or glass containers and cool completely before covering, labeling, and store in freezer for up to 3 months until ready to eat. Let thaw in refrigerator before baking.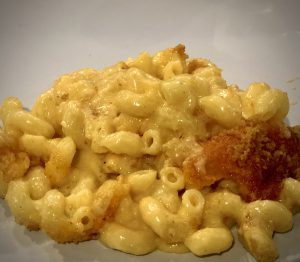 Gourmet Lobster Mac 'n Cheese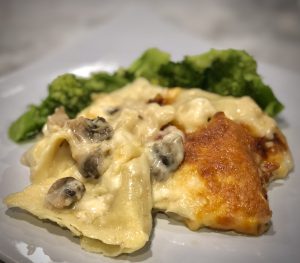 Marsala Chicken Ravioli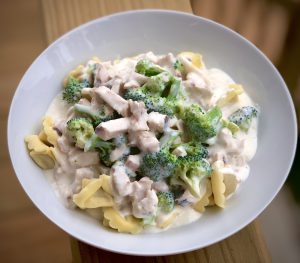 Chicken and Broccoli Tortellini