Click HERE to watch the video of this recipe on my YouTube Channel!
When it comes to nachos, I like for mine to be like my party guests; loaded. I'm kidding…or am I? It seems like any time I get nachos that claim to be "loaded" are quite lacking on the loaded part. Maybe I'm just picky.
Either way, when I make nachos at home, a major requirement is not running out of that cheesy topping. This recipe is especially great for football gatherings. Since the Superbowl is coming up quickly, stuffing your friends and family with filling foods is a necessity.
I am completely obsessed with how smothered these nachos are with beef and cheese, but even more obsessed with how easy they are to make. Combine these with family, friends, and football; and you're sure to have a loaded good time.
Loaded Nachos
1 bag restaurant style tortilla chips
2 lbs. ground beef
16 oz. jar salsa con queso
1 lb. sharp cheddar cheese block, grated*
guacamole, shredded lettuce, tomatoes for garnish
Preheat oven to 350 degrees. Spread tortilla chips into an even layer on a baking pan. Cook ground beef in a skillet on medium heat until browned and fully cooked through, drain. In a medium size mixing bowl, stir together the cooked ground beef and salsa con queso. Sprinkle half of grated cheese evenly on top of tortilla chips. Spoon beef mixture on top of chips in an even layer, sprinkle with remaining cheddar. Place pan in oven and bake until cheese is melted, 6-10 minutes. Serve immediately.
*You can use the pre-shredded cheese, but the freshly grated cheese has a much smoother, creamier consistency when melted.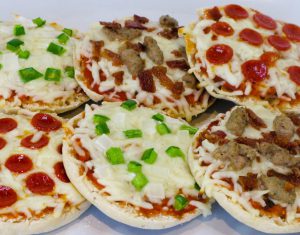 Mini Pizzas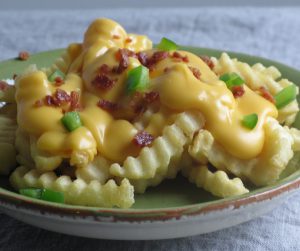 Smothered Cheese Fries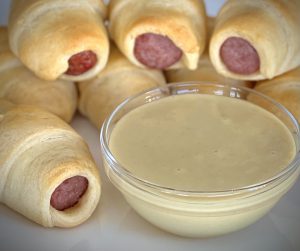 Jumbo Piggies with Honey Mustard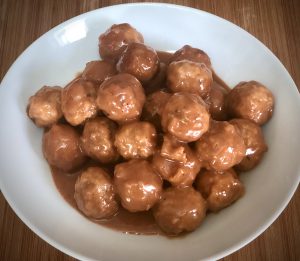 Slow Cooker BBQ Meatballs