When I started my freezer meal business back in 2017, my main focus was to make delicious comfort food that was easy to batch out and throw in the oven on those nights you just don't feel like cooking. Being quarantined definitely gives me more time to cook at home since I'm stuck with the kids 24/7 and unable to work, so I've discovered myself running out of ideas on what to make that's new and fun. 
The idea of this recipe appeared in my head two years ago, and it's been sitting in a folder waiting to be tested for what seems like forever. After moving into a house that is very much a fixer upper and we finally started on major renovations during all of this mess, the need for comfort food is strong. It's a daily struggle not to rummage through the pantry and see what I can eat. Thankfully, my head is on straight when I go to the store once a week and most of our food is stocked with a healthy collection instead of 52 pounds of Oreos. Oh, those sound good.
As I tasted the sauce and it had that wonderful hint of wine, it made me wonder if my kids would have a negative response. Nothing was said to deter them as I put their plates of food on the table, and my 9 year old went back for seconds. The 5 year old said it looked gross (because it was different), but then ended up eating his entire plate of food. As I was spooning the leftovers into foil containers to convert them into freezer meals, I was secretly hoping there would be at least a few extra bites for me to shovel in my mouth. Disappointment set in when they filled up the containers perfectly.
Southern Shrimp and Pasta
1 pound peeled shrimp
1 pound penne pasta
1 cup unsalted butter
1 cup all purpose flour
1 cup dry white wine or cooking sherry
5 cups half and half
2 green onions, minced
2 pieces bacon, cooked and crumbled
1/2 cup roasted red bell pepper, minced
1 tablespoon bbq seasoning
2-3 teaspoons kosher salt
Melt butter in pot on medium heat until melted, then whisk in flour. Slowly add sherry and BBQ seasoning, whisk and continue to cook for another minute. Whisk in half and half, continue to cook on medium heat, whisking occasionally to break up any clumps from the roux (the butter and flour mixture). While the sauce is cooking, cook the pasta according to package directions just until done. So, if the package directions say 8-10 minutes, pull the pasta off the stove right at 8 minutes, pour into strainer and run cold water over the pasta to stop them from cooking.
Saute the shrimp with 2 tablespoons butter on medium heat in skillet until opaque, about 3-4 minutes, set aside. When the sauce has been cooking for about 12-15 minutes and has thickened, reduce heat to low and stir in cooked shrimp, green onions, and roasted red bell peppers. Remove pot from heat, stir in shrimp and serve with cooked bacon sprinkled on top.
*PREPARE AS A FREEZER MEAL: Distribute evenly into foil contaners, let cool completely before covering and labeling. This is good for up to 3 months in the freezer, you can bake from frozen at 350 degrees for 1 hour 15-30 minutes, or thaw in the refrigerator and bake at 350 for 45-55 minutes.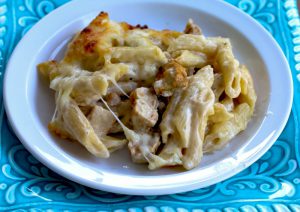 Chicken Alfredo