Gluten-Free
Growing up, I was a gigantic baby when it came to anything spicy. A pinch of black pepper would have my tongue screaming for mercy. My husband is the exact opposite, and has teased me for many years. In most cases for him, it's not spicy enough. Well, until we went to a local Thai restaurant and he opted to get level 4 spice. He had been warned, but learned his limits after that super fun experience. 
Over the years, my palate has grown exponentially, including its level of spice tolerance. I have come to love Cajun-style food and Mexican food, and my obsessive need to chug a gallon of ice water from one meal has diminished.
I didn't think it was possible to love pasta more than the Cajun Mac 'n Cheese, but this dish has surpassed those expectations. Some close friends of ours refer to it as "Ninja Pasta" and are always on the lookout for when it appears on my Freezer Meal Menu. If I had to rate this dish and its popularity, I would say it's in the top three most requested Freezer Meals that I make, and it's hard to keep it in stock.
Cajun Alfredo
2 lbs. Gluten-Free penne pasta (my favorite brand is Ronzoni)
2 (12 oz.) bags x-small frozen cooked shrimp, thawed
12 oz. andouille sausage, sliced and halved
8 oz. parmesan wedge
1/2 gallon half and half
2 cups heavy cream
1 lb. butter
1/2 cup Gluten-Free All-Purpose Flour
1/4 cup + 2 tablespoons Cajun seasoning
1 tablespoon kosher salt
2 lbs. grated mozzarella cheese
Melt butter in pot on medium heat until melted, then whisk in flour. Slowly add half and half and Cajun seasoning, whisk and continue to cook for another minute. Continue to cook on medium heat, whisking occasionally to break up any clumps from the roux (the butter and flour mixture). While the sauce is cooking, cook the pasta according to package directions in a separate pot just until al dente. So, if the package directions say 8-10 minutes, pull the pasta off the stove right at 8 minutes, pour into strainer and run cold water over the pasta to stop them from cooking. When the sauce has been cooking for about 12-15 minutes and has thickened, reduce heat to low and stir in grated salt and grated parmesan. Remove pot from heat, stir in sausage, shrimp, and pasta. Distribute evenly into glass or foil containers, sprinkle with mozzarella cheese. When ready to eat, bake in a 350 degree oven for 35-45 minutes, until hot and cheese is melted.
PREPARE AS A FREEZER MEAL: Distribute evenly into glass containers or foil contaners, sprinkle with grated mozzarella cheese and let cool completely before covering and labeling. This is good for up to 4 months in the freezer, you can bake from frozen at 375 degrees for 1 hour 15-30 minutes, or thaw in the refrigerator and bake at 375 for 45-55 minutes. Store in freezer for up to 4 months.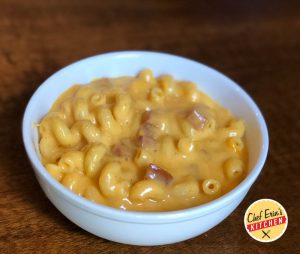 Cajun Mac 'n Cheese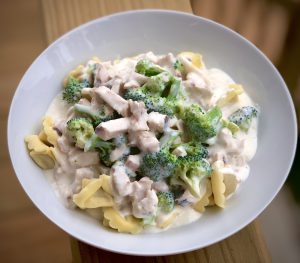 Chicken and Broccoli Tortellini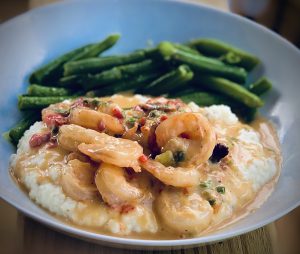 Our Favorite Shrimp and Grits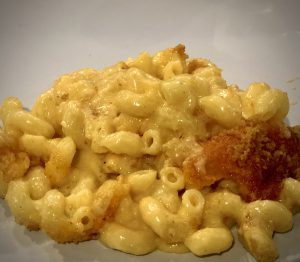 Gourmet Lobster Mac 'n Cheese