Gluten-Free
I've been thinking about making this cake for months, but for some reason time slipped away since the summer started. Maybe it's because these kids are home all the time, distracting me… I dreamed of these fluffy yellow layers of cake with strawberry filling and an icing that is a combination of cream cheese icing and freshly whipped cream. Well, having a birthday in July gave me the perfect opportunity to make it. But let's be honest here, do I really need an excuse to make a cake? Of course not. All I have to do is yell, "FREE CAKE!" and people come running to help eat it.
The lovely pink that you see here dripping down the sides of the cake is white chocolate ganache. I grabbed some pink chocolate at the store and made a ganache with it using hot heavy cream and melting the chocolate. I've made chocolate ganache HUNDREDS of times with regular chocolate over the years, but somehow managed to skip using white chocolate.
Well, let me tell you something. White Chocolate Ganache is the KAREN of chocolate ganache. I knew that I had to use less heavy cream since white chocolate melts thinner than regular chocolate, but I wasn't expecting a slip-n-slide effect after I put more icing on top. I let the cake set in the fridge for over five minutes for the ganache to harden, but apparently that wasn't long enough, or I didn't make the layer thick enough. Either way, I stared at it as the icing started to slide down the side of the cake…and couldn't help but to laugh. Is this really happening? Good thing I'm not making this for anyone else, I thought as I grabbed my phone to snap a pic and post it on social media. Whenever someone says, "I bet you never mess up on a cake!" I typically laugh and remind them that I actually am human and make mistakes on a regular basis. It's fun to throw pictures of those mistakes out there for the world to see.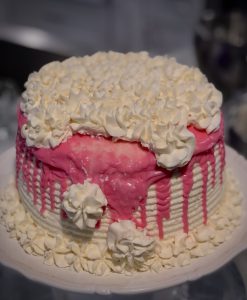 Thankfully, I dressed it up and turned it around for pictures, so you couldn't even tell it happened. Out of sight, out of mind, right?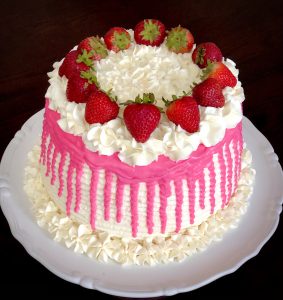 My favorite part was cutting into this cake so we could dig in. I started salivating when I looked inside to see the layers of cake, strawberry filling, and that incredible whipped cream/cream cheese icing. I could eat this icing by itself with a spoon. A big spoon.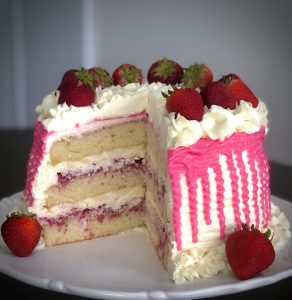 Oh, and if you have any extra icing, use it to dip those fresh strawberries in…
For the Yellow Cake (modified from Preppy Kitchen)
2 1/4 cups Gluten-Free All-Purpose Flour
1/4 cup cornstarch
1 1/4 cup granulated sugar
2 teaspoons baking powder
1/2 teaspoon salt
1/2 cup unsalted butter, softened
1/4 cup vegetable oil
3 whole eggs
2 egg yolks
1 tablespoon vanilla extract
1 cup buttermilk
Preheat oven to 350 degrees. In a small mixing bowl, combine flour, baking powder, corn starch, and salt. Whisk together and set aside. Combine butter and sugar in a medium size mixing bowl or standing mixer, beat at medium speed for 1 minute, until creamy. Add oil and vanilla, continue mixing and scrape down the sides of the bowl. Add eggs one at a time, mixing until well-combined. Alternately add flour mixture and buttermilk, beating at low speed until well-combined. Spoon batter evenly between three round 8 inch cake pans that have been greased and floured. Bake for about 30 minutes, until toothpick inserted in center comes out clean and cake has just started to pull away from sides of the pan. Remove pans from oven, let cakes cool in pans for 10 minutes before removing cakes to cool completely on cooling racks. Brush all three layers generously with strawberry juice (see below).
For the Strawberry Filling
2 pints fresh strawberries, stems removed
1/4 cup granulated sugar
1/4 cup water
Roughly chop strawberries, combine with sugar and water in a small pot and cook on medium heat for 8-10 minutes, stirring occasionally. Remove from heat and mash well with a potato masher. Place a wire mesh strainer on top of a medium size mixing bowl, pour strawberry sauce into strainer with small bowl underneath to catch strawberry juice. Let mixture cool before putting on cake layers.
For the Icing
1 cup unsalted butter, softened
16 oz. cream cheese, softened
2 cups confectioners sugar
2 1/2 cups heavy whipping cream
1 tablespoon granulated sugar
1 teaspoon unflavored gelatin
In a medium size mixing bowl or standing mixer, combine butter and cream cheese. Beat at medium speed for at least 3 minutes, until well-combined and fluffy. Add confectioners sugar and beat for another 3 minutes, set aside.
In a medium size mixing bowl or standing mixer, combine heavy cream and granulated sugar, beat at high speed until soft peaks form. Sprinkle in unflavored gelatin, continue mixing until stiff peaks form. Gently fold whipped cream and cream cheese icing together until well-combined, decorate cake with icing as desired.
Putting It Together
When cake layers have cooled completely, place one layer on a cake stand or bottom of cake carrier. Brush cake layer generously with reserved strawberry juice (this will soak in to the cake, keeping it moist and giving it more strawberry flavor). Fill a large pastry bag with icing, pipe around the top edge of the cake layer (this keeps the strawberry filling from oozing out of the sides). Spoon half of strawberry filling on top of cake layer, pipe more icing on top of the filling and smooth into an even layer. Repeat this process with the second layer of cake. Place third layer of cake on top, brush generously with strawberry juice. Cover cake completely with icing and decorate as desired, store in refrigerator for up to 7 days.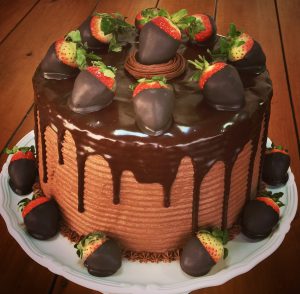 Chocolate Covered Strawberry Layer Cake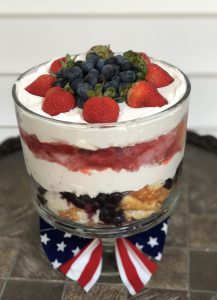 Berry Trifle