Gluten-Free/Dairy-Free/Vegan
Now that my daughter is getting a little older, she likes cakes that are less "kid-like." To be honest, that is perfectly fine with me. When I first started decorating cakes 11 years ago, I liked the kid-like fun stuff…but now I thoroughly enjoy making beautiful dessert cakes even more. The decorated cakes are pretty, but you don't want to cut them. The dessert cakes look so ridiculously good that you absolutely CANNOT wait to grab a knife, a fork, or just shove your whole face in it. Those are my kind of cakes.
So when her birthday rolled around this year, she asked for this cake. In fact, she specifically asked for "the healthy cake that you make" for her birthday. What the heck did she mean by that? Well, the gluten-free, dairy-free, vegan version of a cookies 'n cream cake. She's more sensitive to dairy like her mama, and the sweet girl wanted to make sure that I could eat the cake along with everyone else, too.
My favorite part about this cake is that it's the kind of healthy cake that if you don't say anything to anyone, even the skeptics have no clue they're eating a healthier version of a classic favorite. My husband is one of the most skeptical people on the planet, and this is his favorite "healthy" cake that I make. He didn't want to like it at first because he knew it wasn't a traditional cake, but caved after tasting it. This is one of the many reasons why I love tricking people with food.
Chocolate Cookies 'n Cream Cake
For the Cake
3 cups gluten-free flour
2 1/4 cups granulated sugar
1/2 cup unsweetened cocoa
1/2 cup unsweetened dark cocoa
1 1/2 teaspoons baking powder
1 tablespoon baking soda
1/2 teaspoon salt
2 1/4 cups non-dairy milk (I typically use oat milk)
3/4 cup coffee
1 tablespoon vinegar
1 cup vegetable oil
1 tablespoon vanilla extract
Preheat oven to 350 degrees. Combine flour, cocoa, sugar, baking powder, baking soda, and salt in a medium size mixing bowl or standing mixer. Gently stir together. Add remaining liquid ingredients, beat at medium speed for about 1 minute, until well-combined. Grease and flour three 9-inch round cake pans, distribute batter evenly into pans. Place pans in oven and bake for 35-40 minutes, until toothpick inserted in center comes out clean and cakes are slightly pulling away from the sides of the pan. Remove pans from oven, let cakes sit in pans for 12 minutes before removing to cooling racks to cool completely.
For the Icing
1 lb. plant butter, softened
7 cups confectioners sugar
1 cup Gluten-Free Oreo Crumbs*
1 tablespoon vanilla extract
1/4 cup water
Beat butter in a medium size mixing bowl or standing mixer for 2-3 minutes, until light and fluffy. Add confectioners sugar, cookie crumbs, vanilla, and water, continue beating for another 2-3 minutes.
*Take some Gluten-Free Oreo cookies and puree the absolute mess out of them in a food processor until they become fine crumbs…the WHOLE cookies, including the filling.
For the Chocolate Ganache
1 bag dairy-free dark chocolate chips (my favorite brand is Enjoy Life)
2 tablespoons coconut oil
Combine chocolate chips and coconut oil in a microwave safe dish and heat in 20 second intervals until chocolate is melted and smooth.
Putting it Together
When cakes have cooled, place one layer on a cake base or bottom of cake carrier. Spoon about 1 cup icing on top of cake layer and spread into even layer. Place second cake layer on top, repeat process one more time. Using remaining icing to cover cake completely, decorating as you prefer. Use the chocolate ganache to drip over the sides of the cake, the fill in the top into a smooth layer. Place cake in fridge for chocolate to set before decorating with remaining icing and crushed Gluten-Free Oreo cookies. Store cake at room temperature for up to 3 days or in freezer for up to 6 months.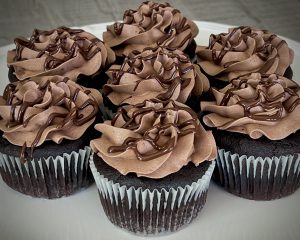 Death by Chocolate Cupcakes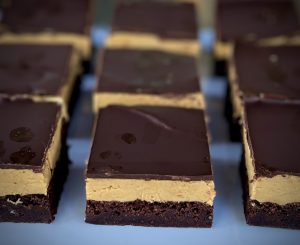 Buckeye Brownies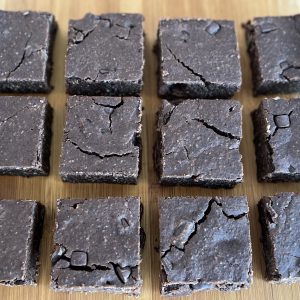 Fudgy Black Bean Brownies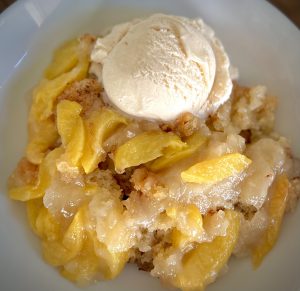 Peach Cobbler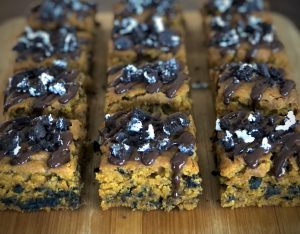 Pumpkin Oreo Brownies