While I was searching through an old "to do" list of recipes that is the same length as Santa's Christmas List, I came across this one. Since our basement kitchen is finished and I had a day off from work, I was looking for something to bake for fun. All my husband heard was "OH!!!" and me sprinting to the beer fridge to see if we still had any Irish Cream Liquor in there. "YES!!!" was the follow up he heard, along with his crazy wife scurrying into the pantry and preheating the oven. All of this happened in less than ten seconds, if you're wondering what it's like when a light bulb goes off over my head.
Although the Irish Cream Liquor I used was still good, it wasn't Bailey's. The liquor really stands out in this cake with the glaze on top, so I would highly recommend getting a fresh bottle of good quality Irish Cream for this recipe. You can also use more or less of the liquor for the glaze depending on how thick or thin you prefer. You can also make a thinner glaze and poke holes in the cake so it seeps in for even more flavor and gooeyness. Is that a word? It is now.
With the holidays coming up, this would be a great dessert to take to a gathering, or you can make it in March for St. Patty's Day!
Recommended Books
Chocolate Irish Cream Bundt Cake
For the Cake:
1 box Duncan Hines dark chocolate fudge cake mix
1 small box instant chocolate pudding mix
3/4 cup vegetable oil
3/4 cup Irish cream liquor*
4 eggs
8 oz. sour cream
1 cup mini chocolate chips
Preheat oven to 350 degrees.
Preheat oven to 350 degrees. In a medium mixing bowl, combine cake mix, pudding mix, oil, liquor, eggs, and sour cream. Beat at medium speed with an electric mixer for 1-2 minutes. Add ¾ cup chocolate chips and stir into batter. Grease and flour a 10 cup bundt cake pan, spoon batter into pan. Bake for 45-55 minutes, or until a toothpick inserted in center of cake comes out clean, remove from oven.  Let cool for 15-18 minutes in pan, then turn out onto cooling rack to cool completely before topping with glaze.
*Since Irish Cream Liquor stands out in this recipe, be sure to use a high quality! My personal favorite is Bailey's.
For the Glaze:
2 cups confectioners sugar
1/4 cup + 1 tablespoon Irish cream liquor* (see note above)
Stir together confectioners sugar and liquor in a small mixing bowl, drizzle on top of cooled cake. Sprinkle with more mini chocolate chips for garnish, if desired.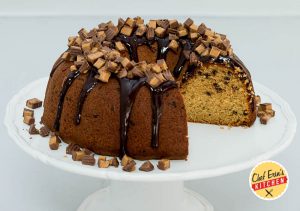 Peanut Butter Chocolate Chip Bundt Cake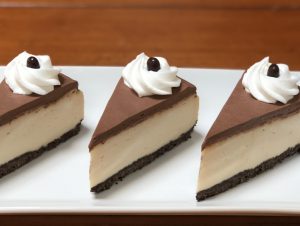 Irish Cream Cheesecake