As I have mentioned before, I'm obsessed with trifles. They look so elegant sitting in that trifle dish all layered and put together, and there hasn't been one yet that didn't taste amazing. The first time I tried this out was on my mother-in-law, since she's a professional Tiramisu consumer. I had been toying with ingredients to use in this to make it taste similar to the real Tiramisu, yet keep it really simple to throw together. The end result was bliss, and you know it's a winner when my I-don't-go-back-for-seconds husband when and got another scoop.
Simplicity is fantastic when you're in a rush and trying to improvise with something that looks good, tastes good, and is so easy that your 8 year old could throw it together. Winner!!
Recommended Books
Tiramisu Trifle
1 1/4 cup coffee, cold
1/4 cup coffee flavored liquor
1 storebought angel food cake ring
1 box Nilla Wafers
1/4 cup confectioners sugar
2 (8 oz.) containers mascarpone cheese
16 oz. frozen whipped topping, thawed
1 tablespoon unsweetened cocoa
Combine coffee and liquor together in a dish and stir. In a medium size mixing bowl, combine mascarpone cheese, whipped topping, and confectioners sugar. Beat at medium speed with electric mixer until smooth. Tear 1/3 of the angel food cake into pieces and layer into the bottom of a trifle dish. Sprinkle 1/3 box of Nilla Wafers on top, pour 1/2 cup coffee mixture on top of cookies and cake. Spread 1/3 of mascarpone mixture on top, sprinkle 1 teaspoon cocoa on top. Repeat layering two more times, sprinkle with cocoa, cover with plastic wrap and store in refrigerator until ready to serve.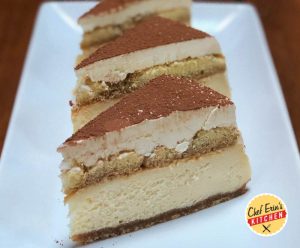 Tiramisu Cheesecake