Every year for my husband's birthday, he asks his mom to make his favorite cake that she's made since his childhood. Nope, NOT Chocolate Mousse Cake. Wait, what? Okay, so his favorite cake is a sponge cake layered with chocolate whipped cream as an icing. It's simple, it's light, it's his absolute favorite. Last time Mimi made the cake, we talked about what it would be like with chocolate layers instead of the angel food cake. Our daughter's eyes widened when we talked about layering that chocolate whipped cream icing with chocolate cake (her favorite), so I hopped to it. It sounded delicious.
Although this is a chocolate whipped cream icing, it's slightly richer than the one my mother-in-law makes. Then again, I do use more chocolate to make the icing, so that could very well explain it. I thought about smothering it with chocolate ganache, but decided against it since we were going for a lighter icing than traditional chocolate buttercream. Instead, I grabbed the little container of chocolate curls and went nuts with sprinkling those on top.
The end result was that perfect combination of rich chocolate cake smothered with chocolate mousse.
Recommended Books
For the Chocolate Cake
2 cups all purpose flour
2 cups sugar
¾ cup cocoa
2 teaspoons baking powder
1 teaspoon baking soda
1 teaspoon salt
1 cup buttermilk
½ cup oil
2 eggs
2 teaspoons vanilla extract
1 cup strong coffee
Preheat oven to 350 degrees. Combine flour, sugar, cocoa, baking powder, baking soda, and salt in a medium size mixing bowl (or standing mixer). Add wet ingredients and beat at medium speed for 1-2 minutes, until smooth. Spoon batter into three 8 inch cake pans on top of graham cracker crust. Bake for about 35 minutes or until toothpick inserted in center comes out clean. Cool in pans for 10 minutes, then remove cakes from pans and cool completely on cooling racks. Layer cake with Chocolate Mousse Icing, garnish with chocolate curls if desired. Store in refrigerator for up to 5 days.
For the Chocolate Mousse Icing
3 cups heavy cream
2 tablespoons granulated sugar
1/2 packet unflavored gelatin (optional)
1 1/2 cups semisweet chocolate chips
3/4 cup heavy cream
Heat 3/4 cup heavy cream in a microwave safe dish for 60-75 seconds, until it starts to bubble. Pour over chocolate chips in a small mixing bowl, whisk together until chocolate chips are melted and smooth. Set aside. In a standing mixer, combine 3 cups heavy cream and granulated sugar. Beat with whisk attachment on medium/high, until soft peaks form. Sprinkle in gelatin (this gives more stability in the whipped cream), and continue to beat until stiff peaks form. Gently fold in chocolate ganache until streaks are gone and the icing is one solid color.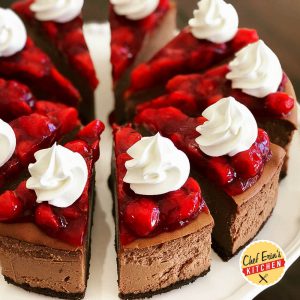 Black Forest Cheesecake