While trying to come up with a name for this cake, the word explosion came to mind. Why? Well, because it looks like a peanut butter fanatic set off a peanut butter bomb that exploded all over this cake. That's exactly what I was going for.
I've been thinking about making this cake for months, but never had an actual reason to make it. Then, it hit me… Do I really need a reason to make this cake? Um, no. I do not need a reason.
With that being said, I also didn't need this delightful thing hanging around my house, screaming at me to eat it. So, I told my peanut-butter-loving brother all about it and coaxed his family to come over along with my parents.
This has to be one of my all-time favorite chocolate peanut butter cakes in all honesty, and for good reason. The layers of moist dark chocolate cake are packed with peanut butter chips, layered with peanut butter buttercream icing, smothered on top with chocolate ganache, then more icing along with peanut butter cups and Reese's Pieces everywhere.
Peanut Butter Explosion Cake
For the Cake
1 box Duncan Hines Dark Chocolate Fudge Cake Mix
1 small box instant chocolate pudding mix
8 oz. sour cream
3/4 cup vegetable oil
1/2 cup milk
4 eggs
1 bag Reese's Peanut Butter Chips
Preheat oven to 350 degrees. Combine first six ingredients in a medium size mixing bowl or standing mixer and beat at medium speed for 1-2 minutes, until well combined. Stir in peanut butter chips. Grease and flour two 9 inch round cake pans, distribute batter evenly between pans and smooth into an even layer. Place pans in oven and bake for about 30 minutes, or until toothpick inserted in center comes out with no cake crumbs and cake is starting to pull away from sides of the pan. Place pans on cooling racks and let sit for 10 minutes before turning cakes out of pans onto the racks to cool completely.
For the Icing
1 pound butter, softened
1/2 cup creamy peanut butter
1 tablespoon vanilla extract
5 cups confectioners sugar
In a medium size mixing bowl or standing mixer, combine butter and peanut butter. Beat at medium speed for 2-3 minutes, until fluffy. Add vanilla and confectioners sugar, continue beating for another 3-4 minutes.
For the Ganache (make whenever cake has already been covered with icing)
1 cup semisweet chocolate chips
1/2 cup heavy cream
Place chocolate chips in a small mixing bowl. Heat heavy cream in a microwave safe dish for 30-60 seconds, just until cream starts to bubble. Pour over chocolate chips in bowl, let sit for 1 minute before whisking well until chocolate chips have melted and are smooth. Pour chocolate ganache over top of cake and smooth into an even layer, pushing some to the edges to drip over the sides (I used a squeeze bottle for a prettier effect on this cake). Place cake in refrigerator for ganache to set before putting more icing and garnish on top of cake.
Garnish
Reese's Pieces
Reese's Peanut Butter Cups
Putting It Together
Lay one cake layer on a cake stand or cake board. Spread a layer of peanut butter icing on top of cake evenly, place other cake layer on top of icing. Cover cake with icing however you would like to decorate it, I prefer using pastry bags and cake decorating tips. This cake can be stored at room temperature for 5-7 days in a cake carrier.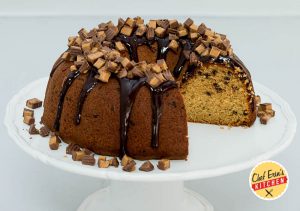 Peanut Butter Chocolate Chip Bundt Cake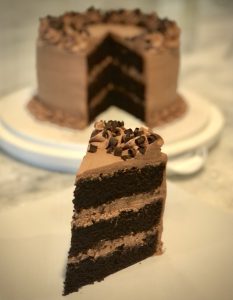 Chocolate Mousse Cake