I've never met anyone who didn't love a big ole Cinnamon Roll, and it makes me wonder if anyone actually doesn't. That can't be possible. A couple of years ago, my mother-in-law and I checked out a local bakery to get some coffee and breakfast. As I was stalking the variety of breakfast options, the Cinnamon Roll Muffin stood out. I've never had a Cinnamon Roll Muffin before, I thought. As I sat down with a cup of coffee and took a bite, I was mesmerized by the way this delicious little muffin tasted so similar to a cinnamon roll, but wrapped up into a cute little muffin.
So, I went home and re-created what was so delicious at that bakery, but decided to do it using some cake mix and doubled the size of the muffin. This result was even better, sucking in my husband and daughter to the deliciousness of each bite. In fact, this is the only muffin our daughter requests that I pull out of the freezer for her to enjoy on the weekends. Hubby goes back and forth between this one and the double chocolate, just for a little change up. Our son loves all muffins, but especially the ones that have any kind of fruit.
What I love so much about jumbo muffins is making them in batches, then wrapping up individually and sticking them in the freezer. This is absolutely the easiest way to make breakfast for my family on the weekends, because we all pick whatever flavor we feel like eating the next day. I pull them out of the freezer the night before and set them on the counter, so we can unwrap and enjoy when we feel like chowing down on breakfast the next morning. Am I being lazy or smart? I'd prefer to think the combination of both.
Recommended Books
Cinnamon Roll Muffins (makes 11 muffins)
For the Muffins
1 box Duncan Hines yellow cake mix
1 small box french vanilla instant pudding mix
3/4 cup vegetable oil
1/2 cup milk
4 eggs
8 oz. sour cream
1 teaspoon cinnamon
For the Filling
¼ cup light brown sugar
1 tablespoon ground cinnamon
For the Icing
1 cup confectioners sugar
1 teaspoon vanilla extract
2-3 tablespoons milk
Preheat oven to 450 degrees. In a standing mixer or medium size mixing bowl, combine cake mix, pudding mix, cinnamon, oil, milk, eggs, and sour cream. Beat with electric mixer at medium speed for 1-2 minutes, until well-combined. Line 2 jumbo muffin pans with liners, distribute half of batter evenly into cavities (I use a yellow scoop), about 1/3 full. In a small mixing bowl, combine light brown sugar and cinnamon, toss together until combined, then sprinkle evenly over each muffin. Scoop remaining batter on top of each muffin. Place pans in oven and bake for 11 minutes. Reduce oven temperature to 350 degrees, continue baking for another 17-18 minutes, or until toothpick inserted in muffins comes out clean. Remove pans from oven and let cool for about 5 minutes before removing muffins from pans and cooling completely on cooling racks. Combine confectioners sugar, vanilla, and milk in a small mixing bowl and stir together to combine. Spread evenly over top of each muffin, let icing set before wrapping. Wrap and store at room temperature for up to 3 days.
Freezer Instructions: When muffins have cooled completely, individually wrap with plastic wrap, label, and store in freezer.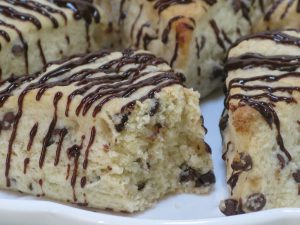 Chocolate Chip Scones