While enjoying my hot cup of coffee this morning, wrapped up in a blanket and looking through recipes, it hit me that I hadn't utilized the eggnog that I bought at the grocery store last week. Well, Christmas Eve is tomorrow, so I have to make SOMETHING with eggnog!! Great idea.
Although I've already posted the my Eggnog Cheesecake recipe, all of these other ideas were popping out at me. How about some cupcakes? Yeah, that sounds good. How about some cookies? Sounds delightful as well. Martini?? Oh. Em. Gee. YES! That's it!! I made it until a whopping 12:30 in the afternoon before putting this together. I can't keep people from enjoying this over the next few days, right? Of course not, which is why I have to make and enjoy this right now before it's too late. These are the sacrifices I make for y'all, and I hope you can feel the love radiating through the air.
Have a wonderful holiday!!
Recommended Books
Eggnog Martini
2 oz. vanilla vodka
1 oz. amaretto
3 oz. eggnog
whipped cream and nutmeg for garnish
Combine vodka, amaretto, and eggnog in a cocktail shaker with ice. Shake vigorously and strain into martini glass, garnish with whipped cream and a light sprinkle of nutmeg.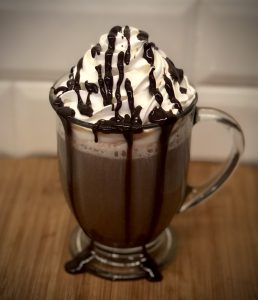 Spiked Hot Chocolate
Red Velvet Cheesecake Tarts