My grandmother made this for us growing up, and you'd thought a bunch of puppies licked the pan clean after we got a hold of it. She loved to serve this with a cup of coffee as an afternoon snack, and it always hit the spot…followed by a nap.
This is literally like eating a cinnamon bun in a cake, with MUCH less preparation involved. It's easy to throw together, and perfect as a potluck or having around the house on the weekends. Eating a special breakfast is one of my favorite things to do the weekends, which means you'll always find something like muffins, coffee cake, pancakes, bacon and eggs, and lots of coffee around our house…and what's great about this is you can make it the day before you eat it!
Cinnamon Bun Cake
For the Cake
1 box Duncan Hines yellow cake mix
4 eggs
1 teaspoon vanilla extract
3/4 cup vegetable oil
8 oz. sour cream
1 cup light brown sugar
1 tablespoon ground cinnamon
Preheat oven to 350 degrees. In a medium size mixing bowl or standing mixer, combine first 5 ingredients and beat at medium speed for 1-2 minutes. Spoon half of batter into a greased 9×13 inch baking dish. In a small mixing bowl, whisk together the light brown sugar and cinnamon, sprinkle on top of batter. Pour remaining batter on top of cinnamon sugar mixture, swirl with a knife. Place dish in oven and bake for 35-40 minutes. Cool in pan for about 10 minutes before making icing.
For the Icing
2 cups confectioners sugar
1 teaspoon vanilla extract
1/4 cup milk
Combine all ingredients in a small mixing bowl, stir together and pour over warm cake.
*Store cake in airtight container, serve warm or at room temperature.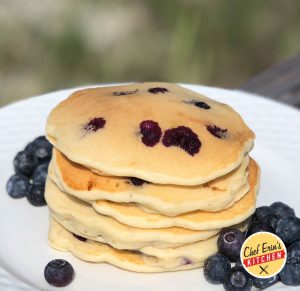 Blueberry Buttermilk Pancakes