While originally trolling for Mexican style dessert recipes, the combination of sopapillas and cheesecake sounded really exciting to me. There's a Mexican restaurant in our town that brings complimentary sopapillas covered in cinnamon and sugar, drizzled with strawberry sauce and topped with whipped cream AFTER you're done with your dinner. Just in case you overstuffed yourself with chips and salsa, along with margaritas and tacos, here come the sopapillas.
MAKE ROOM IN YOUR BELLY, BECAUSE THERE'S NO WAY WE'RE TURNING THESE THINGS DOWN.
In fact, if you're not fast enough, your sopapilla WILL get stolen by someone else at the table…I blame the kids. Don't judge me.
This particular dessert could be served either warm or cold, but the general consensus likes it better cold, since it has a cheesecake center. You better believe this is part of my Cinco de Mayo celebration, along with:  Cayenne Chocolate Cookies, Chicken Quesadillas, Taco Chicken Mac 'n Cheese, and Mexican Style Corn Dip. And who can forget the margaritas??
Recommended Books
Sopapilla Cheesecake Pie
2 (8 oz.) packages cream cheese, softened
1 cup granulated sugar
1 teaspoon vanilla extract
2 (8 oz.) cans refrigerated crescent roll dough sheet
1/4 cup light brown sugar
2 teaspoons ground cinnamon
1/2 cup unsalted butter, melted
¼ cup honey
Preheat oven to 350 degrees. Grease a 9×13 inch baking dish with cooking spray. In a medium mixing bowl, combine cream cheese, 1 cup sugar, and vanilla. Beat at medium speed with electric mixer until smooth. Remove dough from one can; unroll into baking dish. Evenly spread the cream cheese mixture on top of crescent roll dough in baking dish.
Remove and unroll remaining can of crescent roll dough sheet and place on top of cream cheese layer. Pour the melted butter on top of the crescent roll dough. In a small bowl, whisk together brown sugar and cinnamon, then sprinkle on top of melted butter. Bake until the dough has turned a light golden brown, about 30 minutes. Remove from oven and drizzle with honey. Cool completely, and set in refrigerator for at least 1 hour before serving. Store in refrigerator.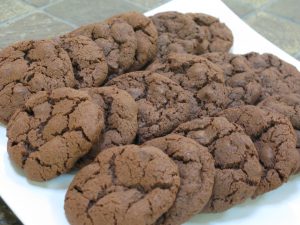 Cayenne Chocolate Cookies