One of my customers recently bought some Quesadilla Lasagna from me because he loved the idea of combining his two favorite foods, Mexican and Italian. "That's why I made it, because it's a combination of my two favorite types of food!" I exclaimed. The excitement that someone else having the same issue was overwhelming, which caused me to jump up and down like a 6 year old.
Well, here is another dish that adds to the excitement.
Since there's no such thing as too much pasta (although my gut might disagree), mixing it together with fajita style chicken, Mexican seasonings, and pepper jack cheese along with the cheddar is enough to make the belly smile.
I made this as a special for Krafty Draft Brew Pub on their menu, and had some left over as I was measuring it into containers.
"It would be wasteful to throw this away, and I can't fit any more food into these containers," I said out loud. Who was I talking to? Myself, of course…because that's normal.
I grabbed a spoon and sat down for a quick snack, then took a bite.
My eyes closed.
I chewed slowly and shook my head.
The warm, cheesy pasta with a slight kick of Mexican seasonings and chunks of chicken radiated my mouth.
THIS is why it was created…to make the belly smile, which is exactly what it did. In all honesty, I needed to eat this again because it had been several months since this experience, along with my husband and 7 year old saying, "You really need to make this a regular." That was when it graduated from an experiment to a menu item.
Recommended Books
Taco Chicken Mac 'n Cheese
1 pound fajita style cooked chicken, cut into bite size pieces
1 pound small shells pasta (make this Gluten-Free by using GF pasta)
1/2 cup unsalted butter
1/2 cup all purpose flour (make this Gluten-Free by using GF all purpose flour)
3 tablespoons All Purpose Mexican Seasoning (or taco seasoning)
4 1/2 cups whole milk
1 pound pepper jack cheese
1 pound sharp cheddar cheese (plus a little more for sprinkling on top)
Preheat oven to 350 degrees. Cook pasta according to package directions for minimum amount of cooking time, drain and set aside. Melt butter in a pot at medium heat, whisk in flour and cook for 1 minute. Add seasoning and whisk together again. Slowly pour in milk, whisking to break up clumps of flour. Continue to cook on medium heat for about 10 minutes, whisking occasionally to make sure clumps don't form in the sauce. When sauce has thickened, turn off heat and add cheeses, stirring until they have melted. Add chicken and pasta, stir well before pouring into a greased 9×13 inch baking dish (it will be full). Sprinkle a little more cheddar on top, place in oven to bake for 25-30 minutes. Let sit for about 5 minutes before serving.
*MAKE AHEAD: This can be made ahead of time and stored in the refrigerator for up to 5 days or in the freezer for up to 3 months!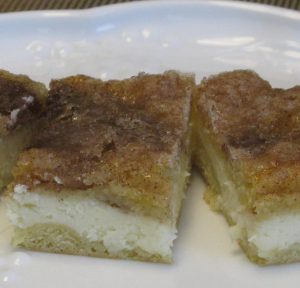 Sopapilla Cheesecake Pie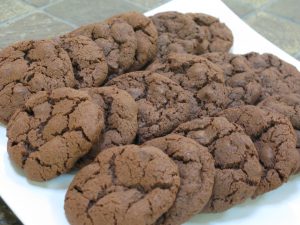 Cayenne Chocolate Cookies