I've had these on my to-do list for a couple of months now, and finally had the perfect opportunity to make them when my Tiramisu-loving mother-in-law was coming to visit. Just the mention of this word makes her knees buckle, so this was the time to make them. Unfortunately, the only ingredient missing was the mascarpone cheese, so I called to see how far away she was.
"Hey Mimi, is there any way you could stop by the store on your way here to pick up some mascarpone cheese? I'm making some Tiramisu cupcakes today, and I need a guinea pig." I heard a gasp on the other end of the phone, followed by a very enthusiastic "Yes!!"
While pulling out all of the ingredients, I had started to use regular coffee. It hit me that I should look in our liquor cabinet first, so I walked over to the bar section of our fabulous new basement kitchen from our huge home renovation and there it was, staring at me from the cabinet. I opened the bottle and took a whiff, the smell of perfectly blended coffee and liquor radiating through my nostrils and causing me to close my eyes and smile. Oh, this was definitely going in the batter.
After removing the cupcakes from the pans to cool, I smelled them again and wondered if they needed a little more Kahlua brushed on top. The answer to that question is always YES. So, more Kahlua is brushed on top of the cupcakes before covering them with the perfectly light and sweet whipped cream mascarpone icing.
I just found some little chocolate curls at the grocery store the other day while browsing through the baking aisle, and I grabbed them. This was before deciding to make these cupcakes and I had no idea what I was going to use them for, but it would be crazy for me to NOT get them, right? Of course. They just add a little something extra with chocolate, and of course making them look really pretty.
Recommended Books
Tiramisu Cupcakes
For the Cupcakes
1 box Duncan Hines yellow cake mix
1 small box instant vanilla pudding mix
8 oz. sour cream
3/4 cup vegetable oil
1/2 cup coffee liquor (or strong brewed coffee, cooled) plus a little more for brushing cupcake tops
4 eggs
1 teaspoon coffee extract
Preheat oven to 350 degrees. Combine all ingredients in a medium size mixing bowl or standing mixer, beat at medium speed for 1-2 minutes until batter is smooth. Scoop batter into lined muffin pans, place in oven to bake for 21-23 minutes, until a toothpick inserted in center of cupcakes comes out clean. Remove pans from oven, remove cupcakes from pan to cool completely on cooling racks. When cupcakes have cooled, lightly brush some more coffee liquor on top.
For the Icing
2 (8 oz. packages) mascarpone cheese
1/2 cup confectioners sugar
16 oz. frozen whipped topping, thawed
unsweetened cocoa, for dusting
chocolate curls (optional)
Combine mascarpone cheese and butter in a medium size mixing bowl or standing mixer, beat at medium speed for about 1 minute until smooth. Add confectioners sugar and continue mixing for another 1-2 minutes. Add whipped topping, continue mixing at low speed until smooth. Spoon icing into pastry bag with cake decorating tip, pipe on top of cupcakes. Lightly dust with unsweetened cocoa. Store cupcakes in refrigerator for up to 5 days, or in freezer for up to 3 months.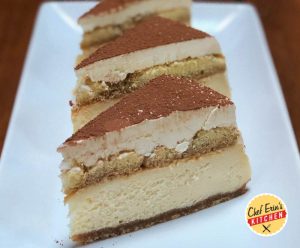 Tiramisu Cheesecake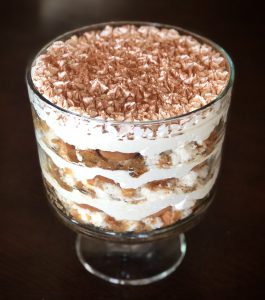 Tiramisu Trifle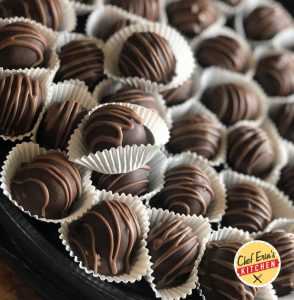 Chocolate Irish Cream Truffles