Since Amaretto is one of my favorite sipping liquors, it made perfect sense to use some in a truffle. In my personal opinion, taking a bite of a good truffle will make you close your eyes and mumble "Mmmmm." Well, these truffles did not disappoint.
The combination of almond flavor along with white chocolate is fabulous as it is, but with some amaretto thrown into the mix? Um, YES PLEASE!! For some reason, white chocolate is softer when melted with heavy cream and butter than regular chocolate, so these melt in your mouth right out of the fridge.
Recommended Books
White Chocolate Almond Truffles
12 oz. bag white chocolate chips
1/2 cup heavy cream
1/4 cup unsalted butter
1/4 teaspoon almond extract
2 tablespoons amaretto rum (I highly recommend Disaronno)
(10 oz.) white chocolate melting wafers
chopped almonds, for garnish
Pour bag of chocolate chips into a medium sized mixing bowl. In a microwave safe dish, heat cream and butter for 1-1 ½ minutes or until cream is just boiling and butter is melted. Stir together if butter isn't totally melted, then pour over chocolate chips in mixing bowl. Whisk together until chocolate melts and mixture is smooth. Stir in amaretto until well-blended. Place bowl in refrigerator for at least 1 hour for chocolate to harden, or let sit at room temperature for about 2 hours for a softer, easier scooping consistency. Using a mini ice cream scoop, scoop out chocolate (about 1 tablespoon) at a time. Place each ball of chocolate on a sheet pan lined with wax paper, return to refrigerator for at least 30 minutes. When truffles are cooling, heat about 1 cup chocolate melting wafers in microwave safe dish in 30 second intervals until melted and smooth, stirring between each interval. Remove truffles from refrigerator and roll in between hands to create a smooth surface. Insert a toothpick into truffle, dip into melted chocolate and gently tap toothpick on the side of the microwave safe dish to remove excess chocolate. Using another toothpick, push truffle off original toothpick onto a wax paper lined cookie sheet. Repeat until all truffles are coated in chocolate. Store in refrigerator until ready to serve.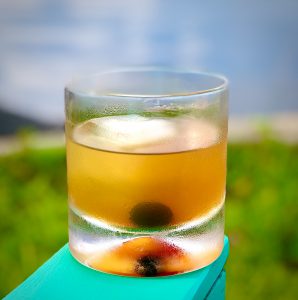 Boujee Amaretto Sour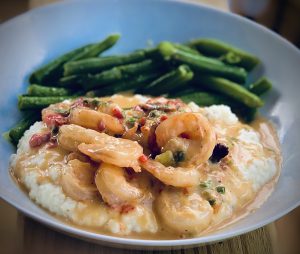 Our Favorite Shrimp and Grits