Red Velvet anything dessert is a favorite all year long, but ESPECIALLY during the holidays. Why is that?? Maybe because it's so pretty. So festive with the red. Or, maybe it's just so ridiculously good and this is the time of year (especially the year we've had) and we all want to drown away the negativity of the year by eating Red Velvet sweet treats. Either way, a red velvet flavored cheesecake is fantabulous on its own, but in the form of a tarts on top of a Dark Chocolate Oreo Cookie topped with a sweetened whipped cream cheese icing??? Yes, please!
Cheesecake tarts are much easier, less time consuming, and less intimidating to make than a full cheesecake. This is something that can be made the day of needing it, unlike a whole cheesecake where you need a 3 month notice. Maybe that's just me. I love making a variety of flavors when it comes to cheesecake tarts, since they're individual servings and people can pick which flavor they want when presented with a little cheesecake tart buffet. I can't think of anything better around the holidays than a buffet of cheesecakes!!
Recommended Books
Red Velvet Cheesecake Tarts (makes 12 tarts)
For the Cheesecake Tarts
1 package Dark Chocolate Oreo® cookies
2 (8 oz.) packages cream cheese, softened
2 tablespoons cornstarch
1 tablespoon unsweetened cocoa
3/4 cup granulated sugar
1 egg
1/2 tablespoon vanilla extract
1 tablespoon red food coloring
1/2 teaspoon white vinegar
1/3 cup heavy cream
For the Icing
4 oz. cream cheese, softened
4 oz. frozen whipped topping, thawed
Preheat oven to 350 degrees. Place Oreo cookies in bottom of a lined muffin pan. In a standing mixer or mixing bowl, add 8 oz. cream cheese, cornstarch, and ½ cup sugar. Beat at medium speed until mixture is smooth. Add remaining cream cheese, cocoa, red food coloring, and granulated sugar, beat until smooth. Slow mixer to stirring speed, add vanilla and egg, scraping down the sides. Slowly add heavy cream and vinegar, beat just until mixed in. Using a yellow cookie scoop, distribute batter evenly in muffins pans on top of cookies. Place pans in oven and bake for 18-20 minutes, remove from oven to cool for 1 hour before transferring to refrigerator for another 2 hours to set. Remove from pans when cooled.
Combine remaining cream cheese and whipped topping in a small mixing bowl, beat at medium speed with electric mixer until smooth. Transfer to a pastry bag with a 1M cake decorating tip, pipe on top of tarts. Store tarts in refrigerator for up to 5 days or in freezer for up to 3 months.
Oreo Cheesecake Tarts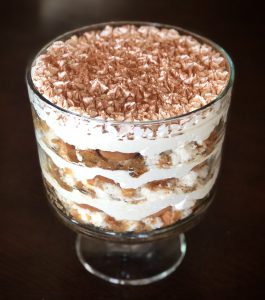 Tiramisu Trifle