The first time I had a homemade Philly Cheesesteak was at my brother's house, when his wife made them for us. I have always loved these sandwiches with the combination of roast beef, provolone, sauteed onions and peppers…but the ones she made for us had one difference- the provolone cheese sauce. When I walked up to the counter to assemble my sandwich, I asked her where the cheese was. She pointed to a small pot with white sauce and said, "Right there, it's a provolone sauce." My eyes got big, and I poured what seemed like 3 cups of that gloriousness all over my sandwich. 
While I was thinking about something a little different to make for lunches during this time of quarantine, my mind flickered to that memory of the sauce with the Philly Cheesesteak sandwiches. So, I decided to put these together as a wrap in a tortilla. Why? Well, with a wrap you can focus more on the fillings rather than the bread. Don't get me wrong, bread is fantastic…but I wanted to DIP the fillings in the provolone sauce.
The original sauce that my sister-in-law made called for less cheese, but I wanted a thicker sauce. So, there's twice as much provolone used in the original recipe. This sauce also thickens as it cools, so keep that in mind if you want a thicker sauce for dipping.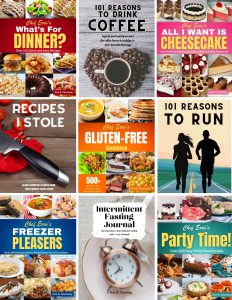 Bacon Philly Cheesesteak Wrap (makes 4)
1/2 pound Boar's Head London Broil (thinly sliced from deli)
1 whole onion, sliced
2 green bell peppers, sliced
2 tablespoons olive oil
4 flour tortilla wraps (burrito size)
Saute beef in olive oil in skillet at medium heat until browned and hot, remove meat from pan and set aside. Add onion and bell peppers, cook until tender. In a small pot while cooking beef and vegetables, prepare provolone sauce. Heat tortillas in microwave for 20-30 seconds, until warm and flexible. Distribute meat between tortillas, top with vegetables, and wrap up tightly. Serve with a side of provolone sauce for dipping.
Provolone Sauce
1 tablespoon unsalted butter
1 tablespoon all purpose flour
2 cups whole milk
8 oz. provolone cheese, cut into small chunks (to melt faster)
1/4 cup grated parmesan
1 teaspoon salt
Melt butter on medium heat, whisk in flour and cook for 1 minute. Slowly add milk and whisk in, cooking for about ten minutes to thicken. When sauce has thickened, add cheeses and stir continuously until melted and sauce is smooth. Spoon into small dishes for dipping.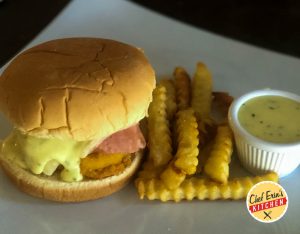 Chicken Cordon Bleu Sandwich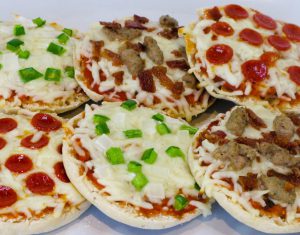 Mini Pizzas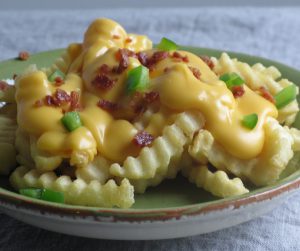 Smothered Cheese Fries